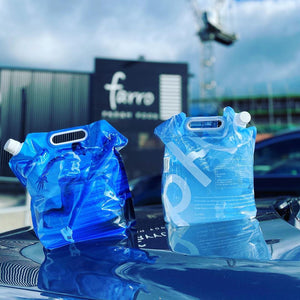 Aquaman NZ
*NEW* Re use-able 5 litre pH9 Water Bag (Box of 2)
Sale price Price $19.99 Regular price
* Re use-able 5 litre pH9 Water Bag * selling fast @ Farro Fresh across Auckland
100% Natural pH9 premium artesian mineral spring water sourced in Pure New Zealand
Alkaline water has smaller molecular content making it easier for the body to absorb. The body can be hydrated more effectively by drinking alkaline water instead of everyday tap water.

High pH Alkaline water available in re-usable 5 Litre bags, shipped as a box of 2.

This BPA free food grade collapsible bag has a convenient carry handle, easy storage and fully recyclable.  Freeze it , useful for the boat, caravan, travel to sports, save for emergency the uses are endless
Also available on sales from Farro Fresh across Auckland 

Order online & receive FREE DELIVERY for your first month AUCKLAND WIDE. SIMPLY USE  enter PROMO CODE :  FFAK in shopping cart!